Corrugated Cardboard Oscillating Knife Cutting Machine
1. Machine with oscillating knife, CCD visual positioning system and cnc spindle. Except EOT-3 oscillating knife for cutting many kinds of soft materials, CCD visual positioning system with automatic tracing-edge, also support the function of CNC router.
EOT-3 - Oscillating Tangential Knife for cutting cardboard, veneer, textile, rubber, felt, leather and much more.
Transmission model adopt precision reducer match with brand gear rack, large torque, low noise and high transmission precision accuracy.
2. Excellent visual positioning system, one-click cutout and one-click start processing, free of typesetting&cutout time, improve processing efficiency. Equipped with professional 1.5 megapixel industrial camera, powerful image recognition, more accurate cutting.
3. The bed is made of high-rigidity rectangular steel pipe welded and optimized dragnet structure, aging treatment to ensure the precision of the bed.
4. Oscillating knife head can be processed and tracing-edge cutting according to different materials, the material dust-free and without raw edge.
5. Double heads device--spindle and oscillating knife, can be cut according to different materials. After many improved tests, we update machine, now machine only have one Z axis for spindle and oscillating knife, it`s integrated together to share one z-axis motor&drive, and doesn`t need another set of motor&driver to control the z-axis of oscillating knife separately.
6. Machine supports DXF, JPG, PNG, NC and other formats, not only with automatic tracing-edge, but also support the function of CNC router.
7. CCD: Tracing-edge cutting for different materials, KT board, PVC, photo paper to achieve no burr cutting.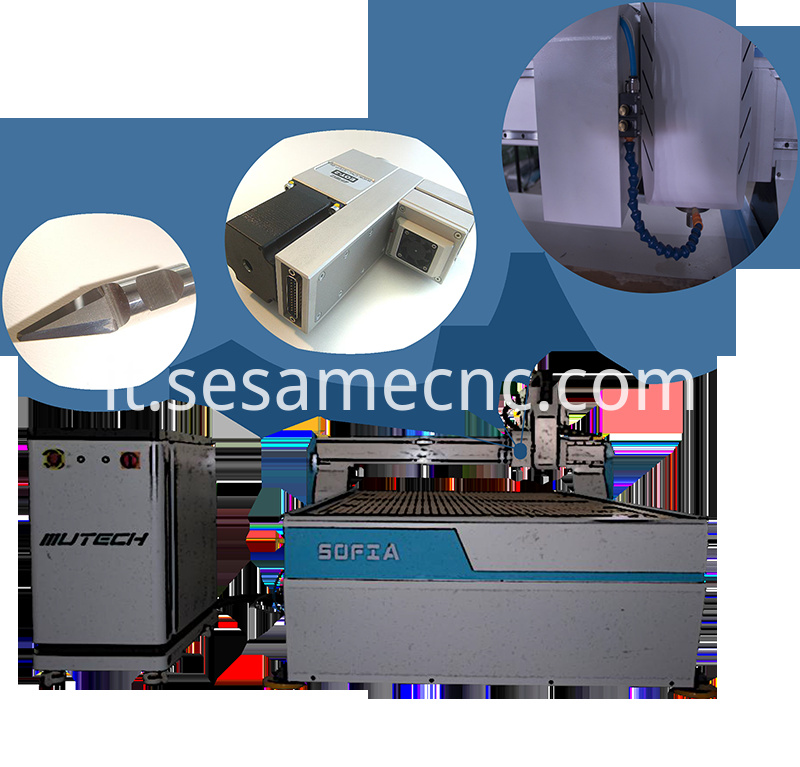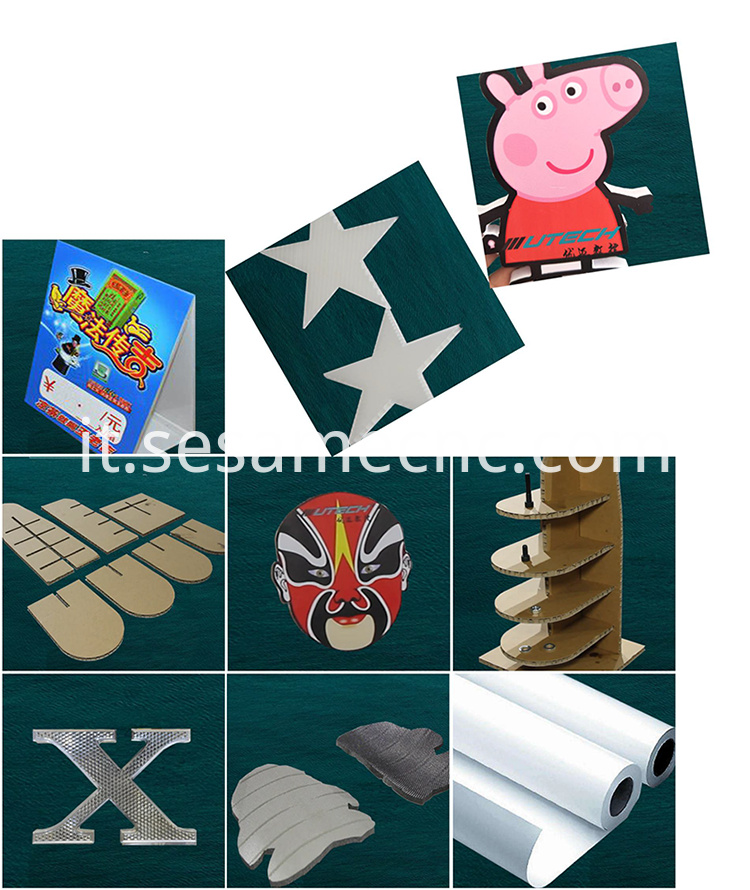 Descriptions
Parameters
Model

UTECH Oscillating Knife CNC Cutter+CCD Visual System
Working Area
1300*2500*200mm
Working Voltage
220V/380V, 3Phase, 50HZ(can be customized)
Control System
UTECH-Kinfe V5.5 Visual Positioning Cutting&Engraving Control System
Control Box
Independent High Control Box
Oscillating Knife
Germany EOT-3
Visual System
CCD Camera for Tracing-edge
Spindle
UTECH 3.2KW Water Cooled Taper Spindle (according to your work)
Spindle Speed
0-24000RPM
Motor and Driver
JMC Hybrid Servo Motor&Driver (Leadshine/YASKAWA/Delta/Panasonic Servo are optional)
Inverter
3KW Xinfutai Inverter
Structure
The bed is made of high-rigidity rectangular steel pipe welded and optimized dragnet structure, aging treatment to ensure the pricision of the bed.
Table Surface
T-slot and Vacuum Working Table with 9 Zones
Lubrication System
Automatic Lubrication System
Calibration
Tool Sensor
Mist Cooling Sprayer
Automatic Oil Mist Cooling Sprayer (if you process metal)
Transmission

X,Y Axis: 1.25m helical rack, Taiwan Hiwin/PMI 25m rail linear bearing.

Z Axis: Taiwan Hiwin/PMI/ABBA rail 25m linear bearing&Taiwan TBI ball screw.

Whole machine with Japan SHIMPO reducer 1:5 or 1:10.

Vacuum Pump
5.5KW Water Circulation Vacuum Pump (220V,3Phase,50HZ)
Dust Collector
Binocular or Monocular Dust Collector (220V/380V)
Machining Accuracy
±0.2mm
Repositioning Resolution
±0.01mm
Command Language
G Code
Applications
Leather, Carpet, Carbon, Wood, MDF, PVC, Acrylic, Carboard, Rubber, Corrugated box, Foam, Leather stripo.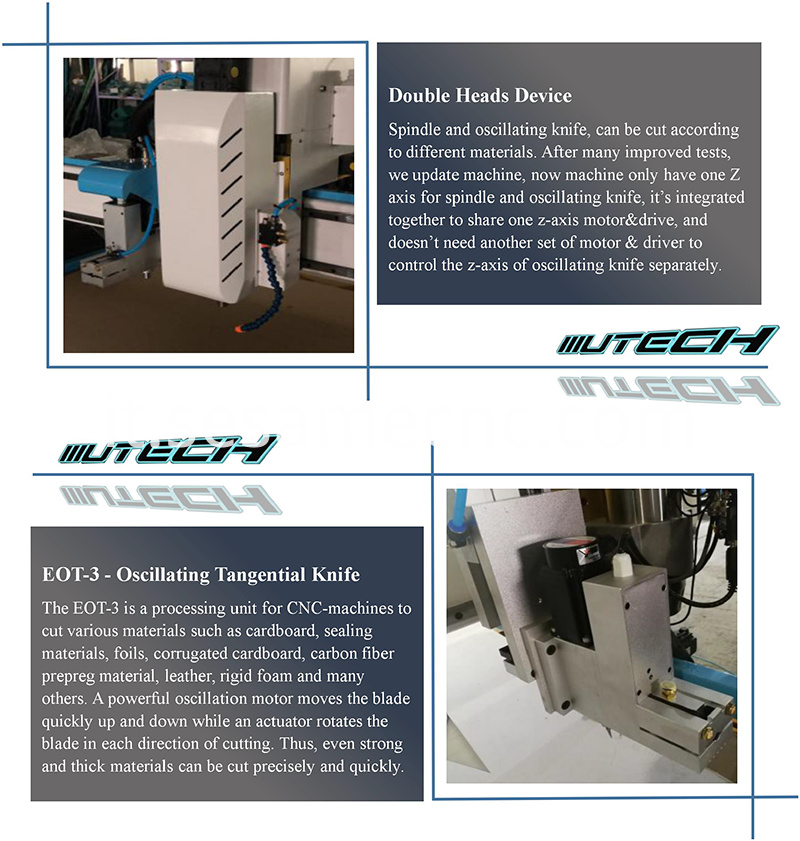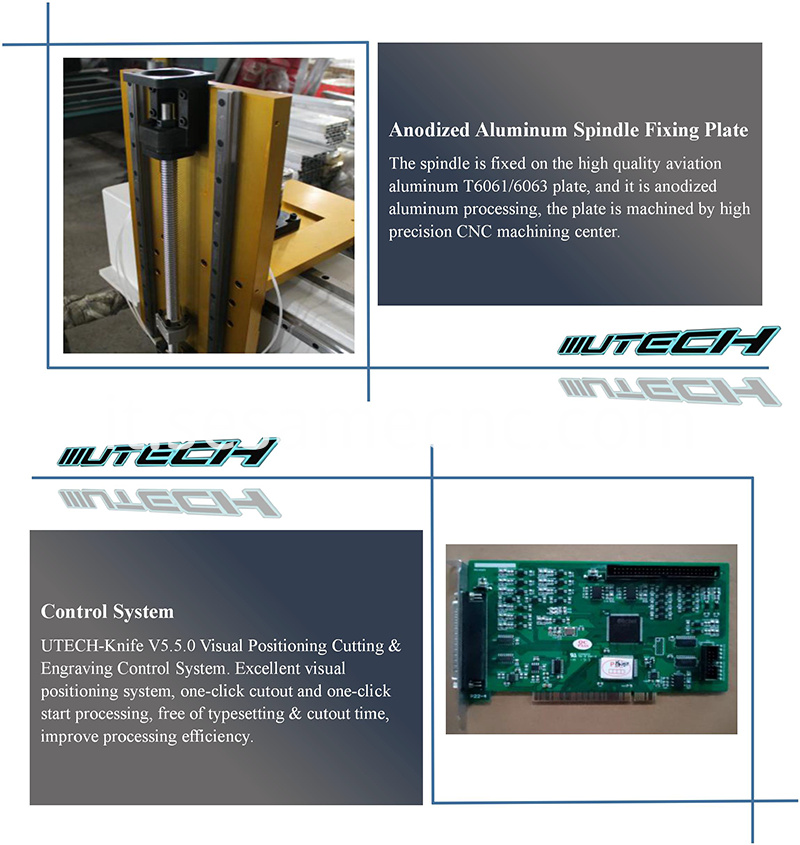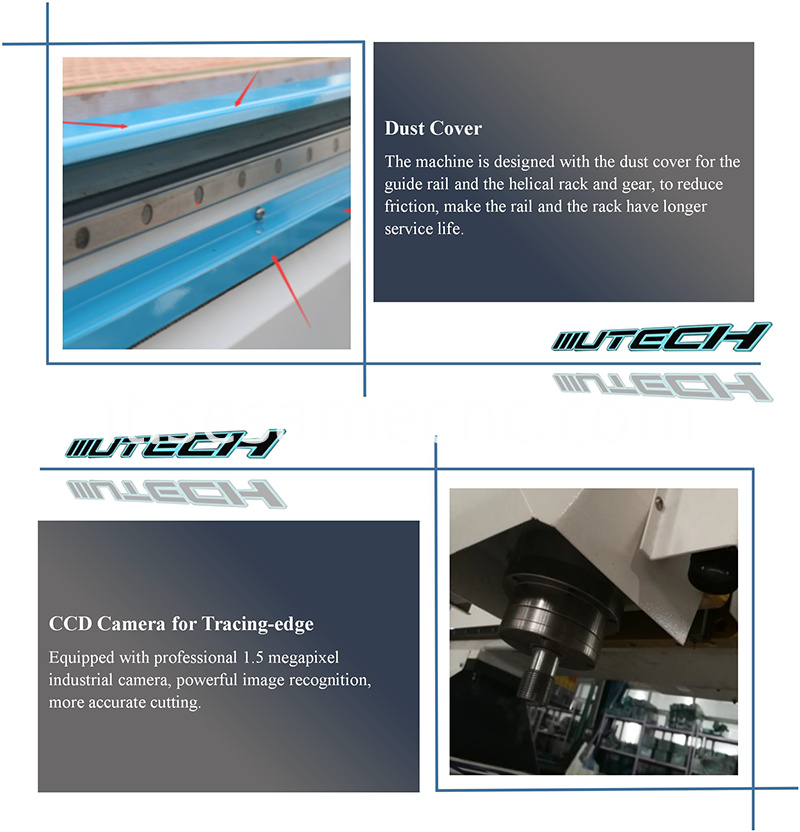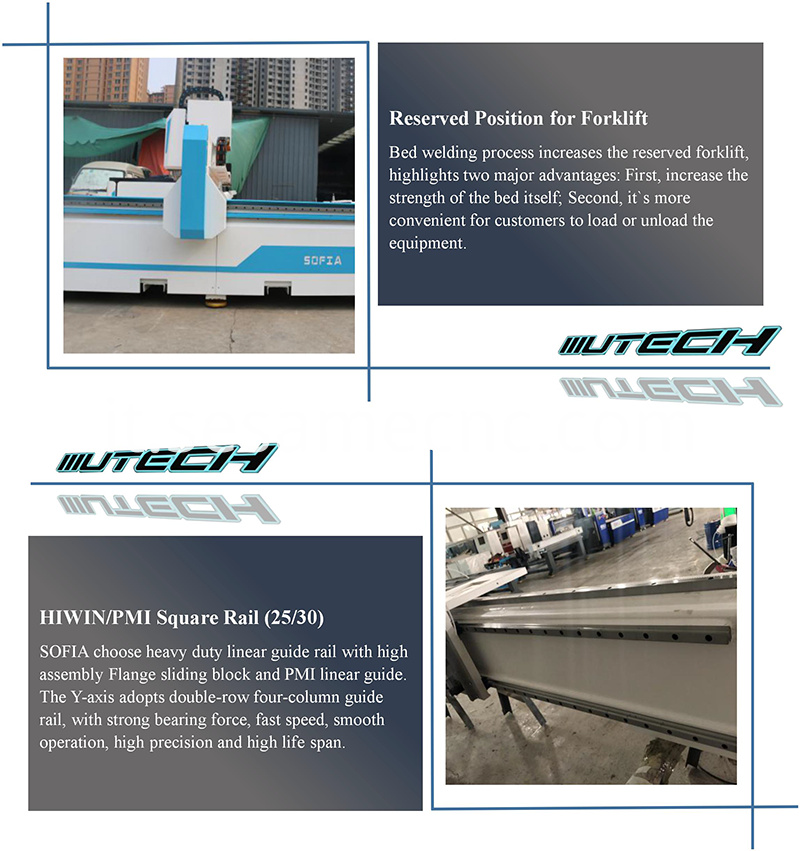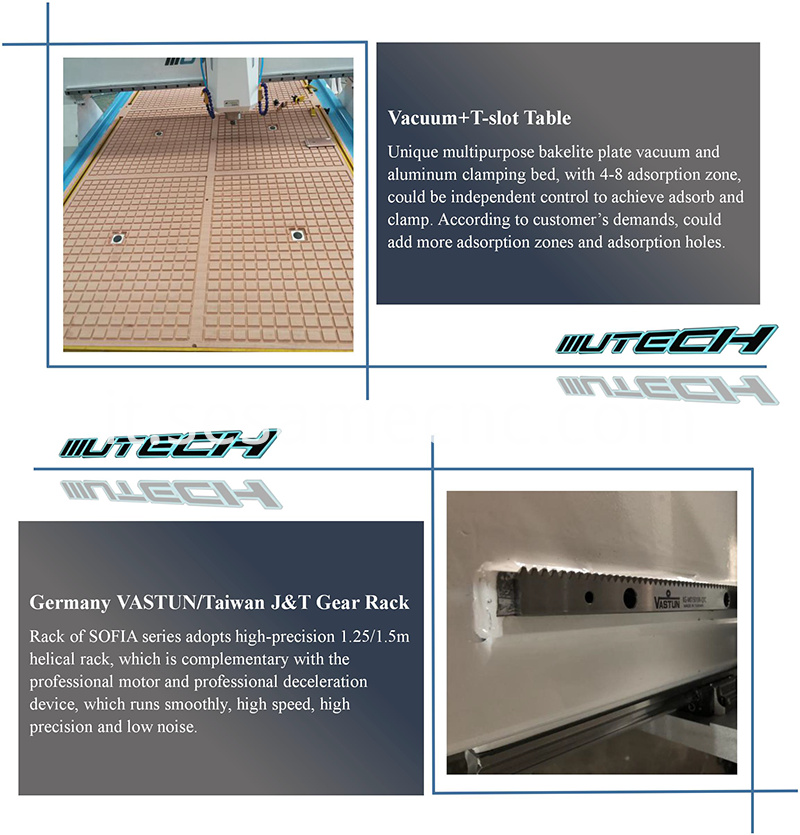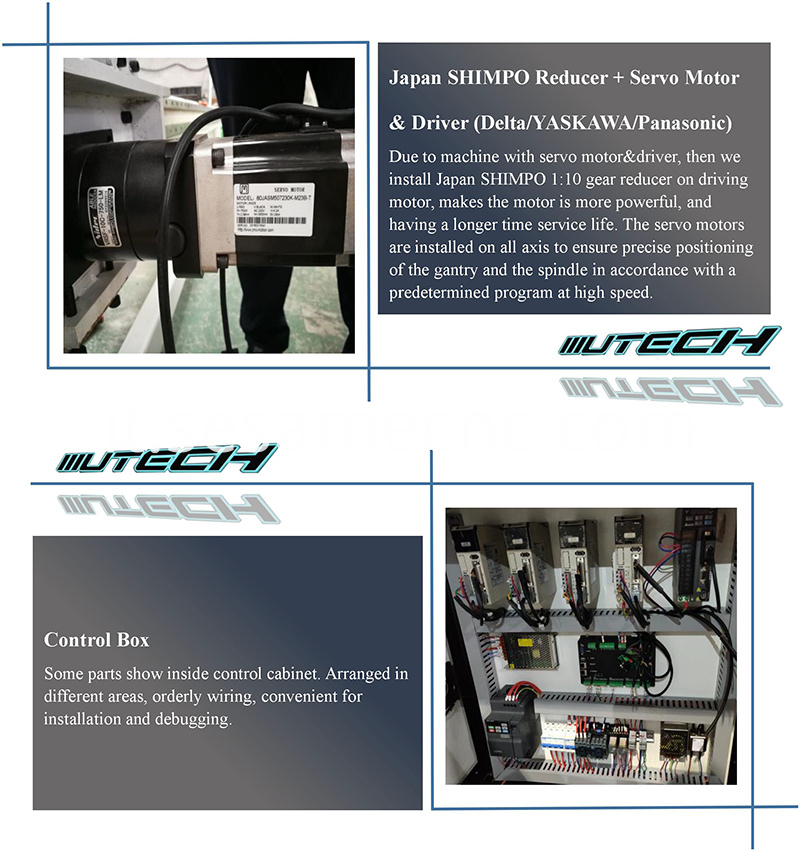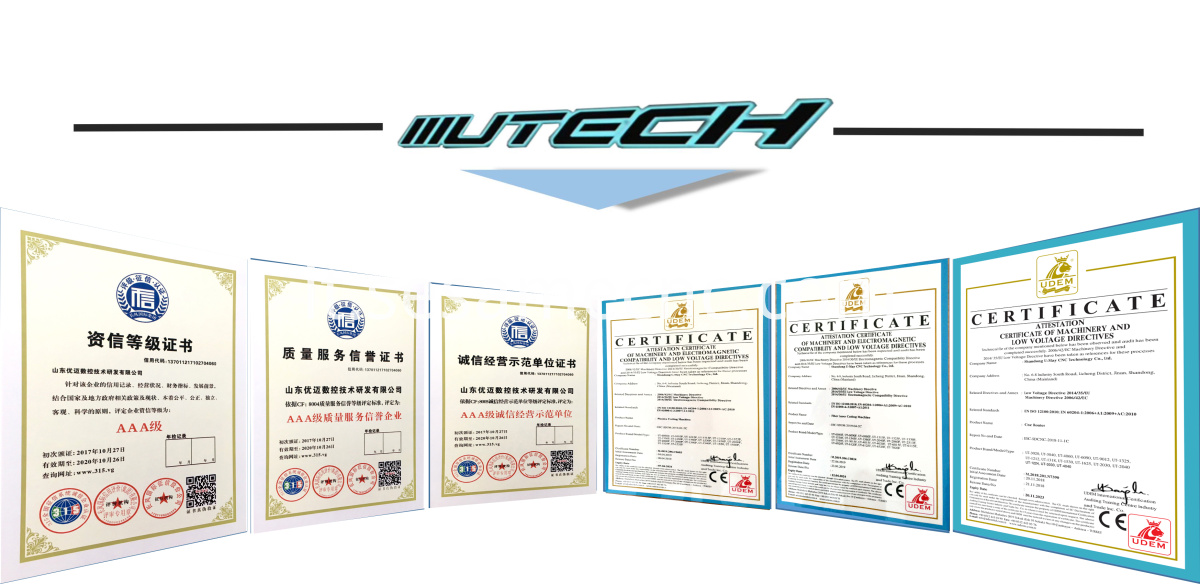 ❶ AAA credit management demonstration unit
❷ AAA quality service reputation enterprise
❸ AAA credit rating enterprise
❹ Quality Management System Certificate
❺ Attestation certificate of machinery and electromagnetic compatibility and low voltage directives -- Fiber Laser Cutting Machine&Plasma Cutting Machine&Cnc Router

Shandong U-MAY CNC Technology CO., LTD.
Shandong U-MAY CNC Technology CO., LTD. Is located in Jinan, the spring city of China.The brand name on the market is UTECH, which is a new brand launched by the company since its construction in 2014.The main products of the company are CNC machine tools, laser engraving machines, plasma engraving machines,fiber laser marking machines, etc. Regarding products, we have been adhering to the business philosophy of "Smart Solution,Better Tomorrow", aiming to provide the CNC engraving machines with high quality and excellent guarantee for the whole world.
In recent years, our company has followed the development of The Times and entered the transition period. By 2019, our carving machines are more actively sold to North America, the Middle East, Western Europe, southeast Asia, Africa, South America and other regions, and have a stable dealer agency in some regions.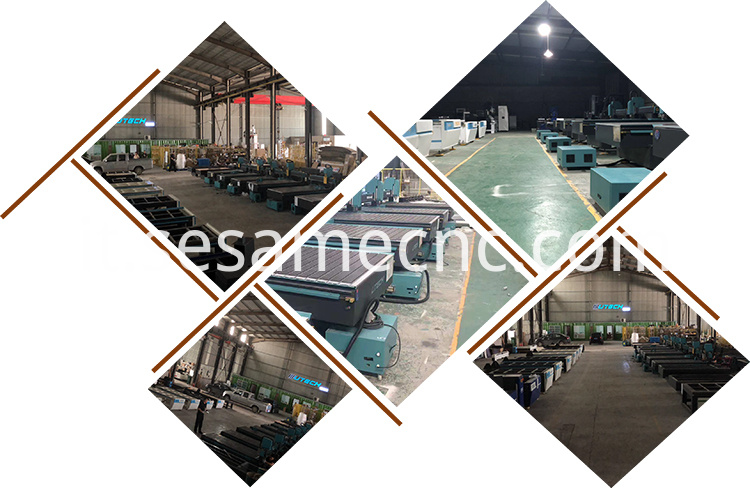 CNC Router 3020 Mini is one of the hot sellers in our Woodworking Cnc Router for export. For acrylic, this desktop engraver can make showing stand, spectacle frames, light box, gift box, aquarium, desk/table, storage box, stationery, mini luminous and so on. UTECH have Cnc Router Series, include Mini Desktop Cnc Router, Advertising Cnc Router, Woodworking Cnc Router, Professional Stone Cnc Router, Sign Cnc Router, ATC Cnc Router; Vision Localization/CCD Series include Cnc Router With CCD, Oscillating Knife Cutter with CCD.The above are some carving patterns, such as aluminum board cutting, luminous characters, PVC board cutting, wood carving, stone carving and so on.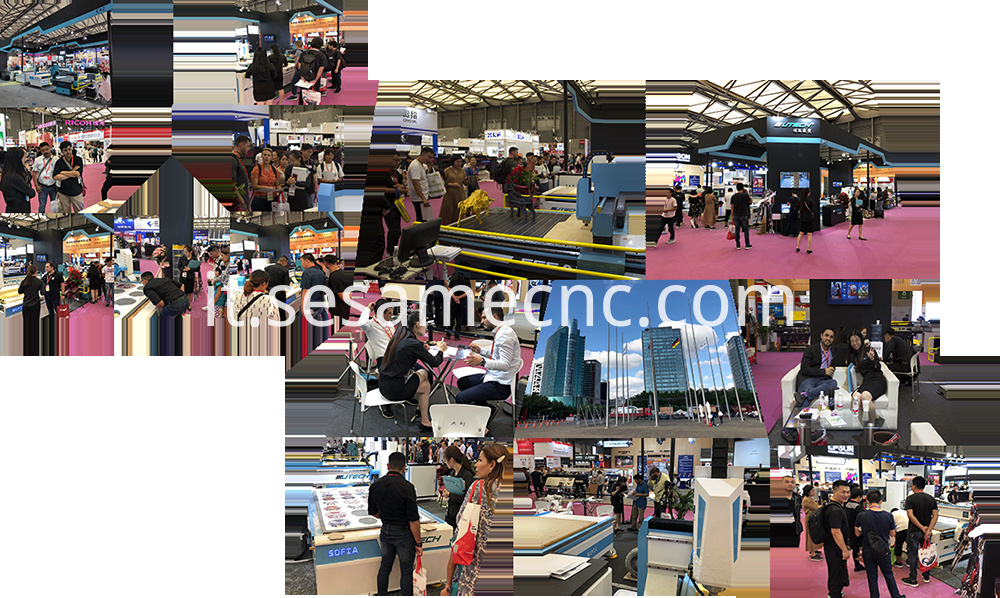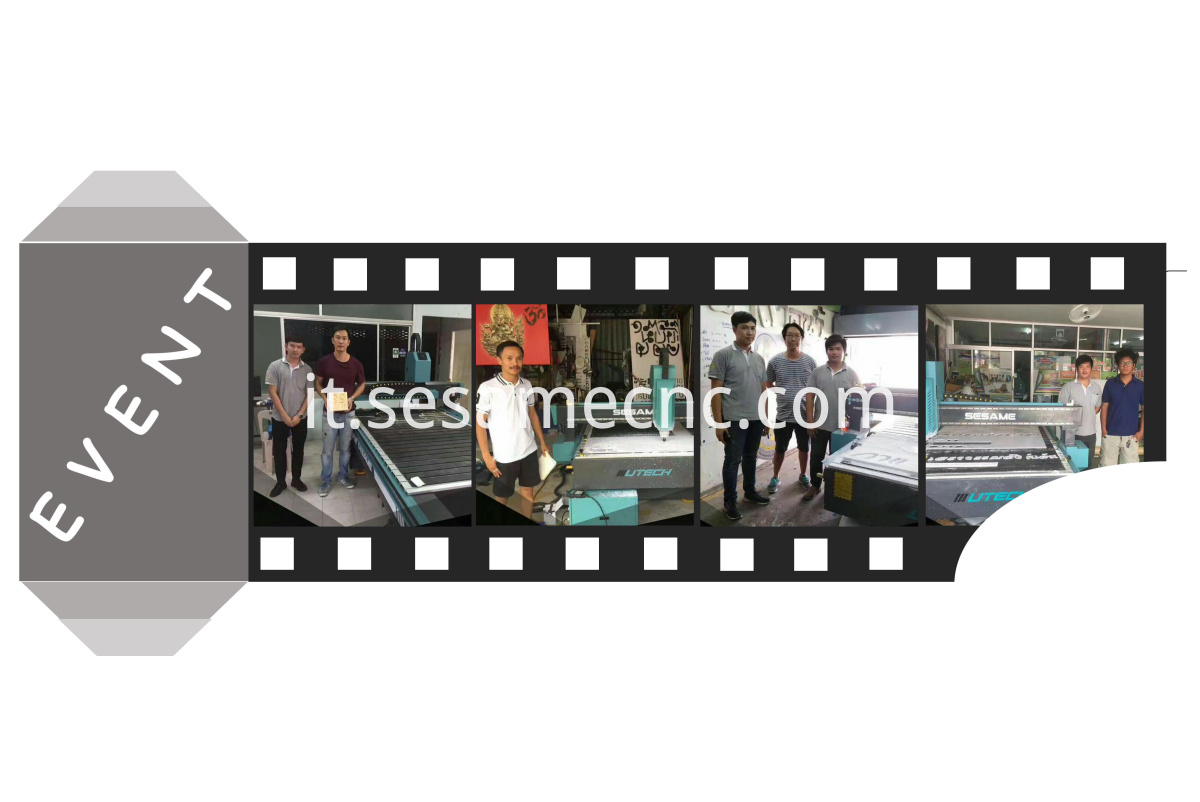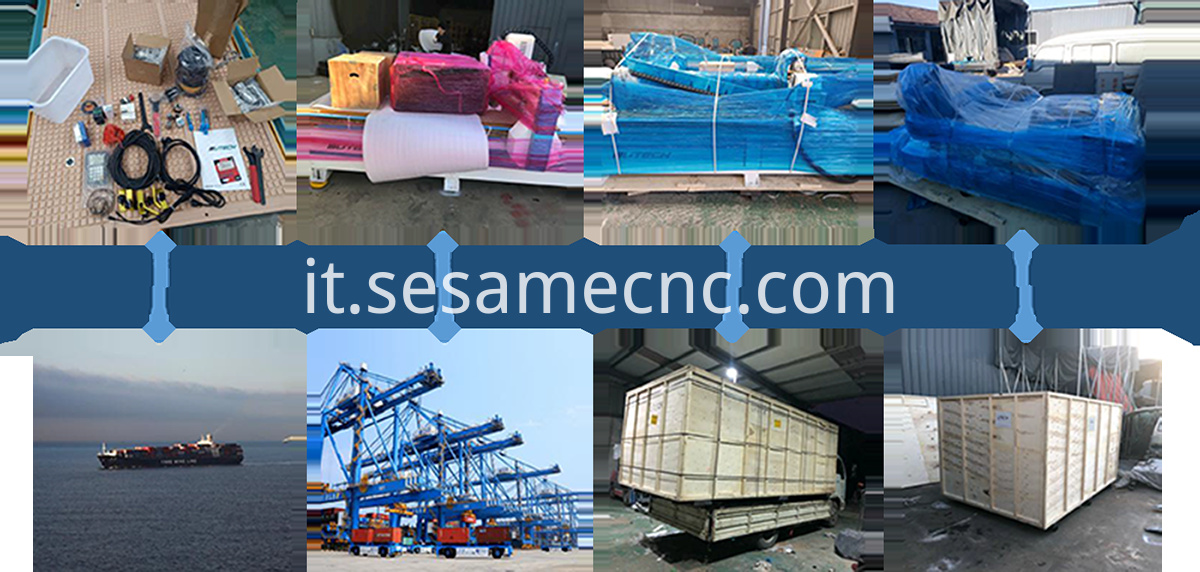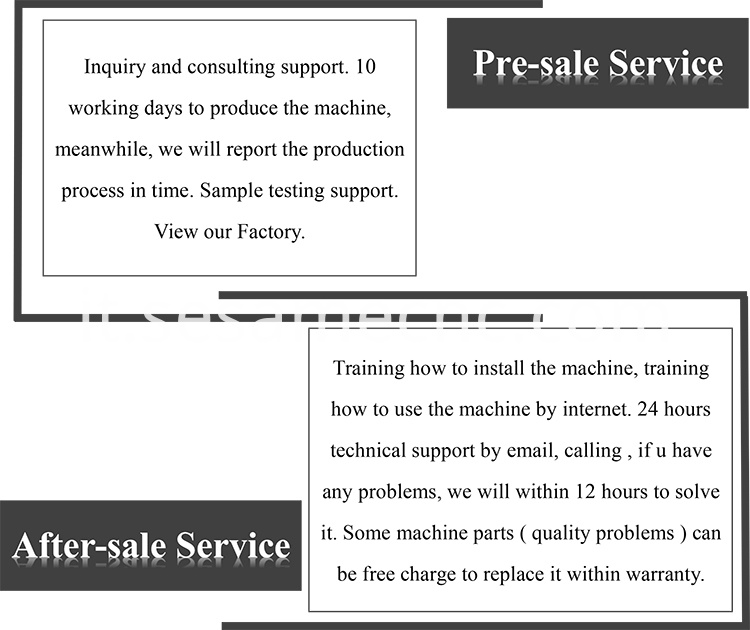 1. How to guarantee the product to me? Is the purchase procedure complicated?
After you purchase Oscillating Knife Cutting Machine, we will keep in touch with you.The specific delivery process is in accordance with international trade practices, you can rest assured.If there is any doubt on some matters, the two sides can negotiate and deal with it.
2. What should I do if the product is found defective upon receipt of the goods?
Under normal circumstances, we will make strict inspection and test before the product leaves the factory. Video inspection is allowed if conditions permit. If you have time, you can come to our factory for on-site inspection. We will mail the missing parts and components in time.
3. How is the product packaged?
Product packaging is divided into three layers. The outer box is made of wood craf t box. In the middle, the machine is covered with foam to protect it from vibration. The inner layer is waterproof and moisture-proof with thickened plastic bags.
4.Why can you trust us?
Our products are of high quality. We import important parts and components from Taiwan, Japan, etc., and have a series of relevant certificates as the basic guarantee. The whole process of assembly and processing has a full range of monitoring. In addition, the after-sales treatment is quite rigorous, and we will have technical staff to answer questions online in time.
5.What kind of factory is it?
Our company belongs to typical industrial and trading a shape, a statement that it is very important, because the factory can control the machine quality, and trade departments can correct fully introduce to the buyer, integrating two department, not only guarantee the product quality, and can do real-time docking factories and sales staff, saving problem to deal with the wait time for you.